HOME
Roadside 1
Roadside 2
Interior
Ardennes 1

Ardennes 2
Eupen
Staverden 1

Staverden 2

Cajamarca

Extremadura 1

Extremadura 2

Extremadura 3

Respect

Eating in

Curb Appeal

TLC



History
Specifications
Links
Videos
Alfa Romeo Montreal 1975
Designed by Marcello Gandini for Bertone
Race-Bred, Tipo 33-Derived DOHC 7000 rpm V-8 Engine
History


The Montreal is historically important to Alfa because it is the only Alfa Romeo production car of the post war period equipped with a V-8 engine that was originally designed for competition. Until the introduction of the 8C Competizione, it was the only production Alfa Romeo with a V8, period. The Montreal was introduced as a concept car in 1967 at Expo 67, held in Montreal, Canada. Originally, the concept cars were displayed without any model name, but the public took to calling it The Montreal. It was a 2+2 coupe using the 1600 cc engine of the Alfa Romeo Giulia Ti and the chassis of the Alfa Romeo Giulia Sprint GT, with a body designed by Marcello Gandini at Bertone. One of the two prototypes built for Expo 67 is preserved in the Alfa Romeo Historical Museum in Arese, Italy.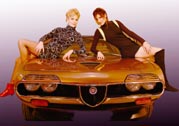 The first production car, Tipo 10564, was shown at the 1970 Geneva Motor Show and was quite different from the original, using a 2593 cc 90░ dry-sump lubricated V8 engine with SPICA (SocietÓ Pompe Iniezione Cassani & Affini) fuel injection that produced around 200 bhp (150 kW), coupled to a five-speed ZF gearbox and a limited-slip differential. This engine was derived from the 2-litre V8 used in the 33 Stradale and in the Tipo 33 sports prototype racer. The chassis and running gear of the production Montreal were taken from the Giulia GTV coupé and comprised double wishbone suspension with coil springs and dampers at the front and a live axle with limited slip differential at the rear. Since the concept car was already unofficially known as The Montreal, Alfa Romeo kept the model name in production.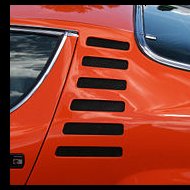 Stylistically, the most eye catching feature is the car's front end with four head lamps partly covered by unusual "grilles", that retract when the lights are switched on. Another stylistic element is the NACA duct on the bonnet. The duct is actually blocked off since its purpose is not to draw air into the engine, but to optically hide the power bulge. The slats behind the doors contain the cabin vents, but apart from that only serves cosmetic purposes.

The original idea to make the Montreal a 2+2 was abandoned in practice, unless one wants to call the narrow, unupholstered strip behind the seats a 'seat for two'. In fact the Montreal is a two-seater GT, though in at least one specimen two male toddlers have on occasion been transported on that rear 'seat' - to their great delight it must be said.

The Montreal remained generally unchanged until it was discontinued in 1977. Total number built was 3917. Ironically, none of them were sold in Montreal, Quebec since Alfa did not develop a North American version to meet the US/Canadian emission control requirements. A Montreal can be seen in the 1974 The Marseille Contract movie where Michael Caine drives a metallic dark brown example.