Satellite image courtesy
of the Spanish Instituto
Meteorologico Nacional,
updated every six hours.




















Current weather conditions in the area according to Weather Underground are shown in the right hand column. The nearest weather station to Lagos is Sagres - which is quite close, but has much rougher weather. Sagres lies at Cape St. Vincent, 32 km (20 miles) to the West, at continental Europe's South-Western extremity, where the ocean meets land in a dramatic way, and where it is always both more windy and a few degrees cooler. The Faro weather station at the airport 80 km (50 miles) to the East is a good alternative, but gives another deviation, Faro being about 3 degrees hotter in mid-summer and often colder in winter than the Western Algarve, the latter due to the influence of cold Easterlies from Spain's interior. A good rule of thumb is: take Faro temperatures minus 2 or 3 degrees and increase wind force by one degree Beaufort. Or take Sagres temperatures plus 2 or 3 degrees and take away some wind. Have a nice day.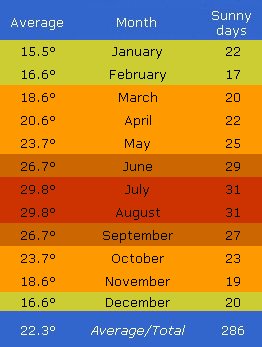 More sunny days than any other part of Europe
According to data widely disseminated in the area by parties interested in the tourist trade, the Algarve is supposed to have more days of sunshine than any other part of Europe. It may very well be true. One can't complain certainly.